If you don't live under a rock, you have to admit that last week was wild. Wall Street has never seen similar plot twists… And so hasn't Reddit. Let's rewind and see what exactly happened!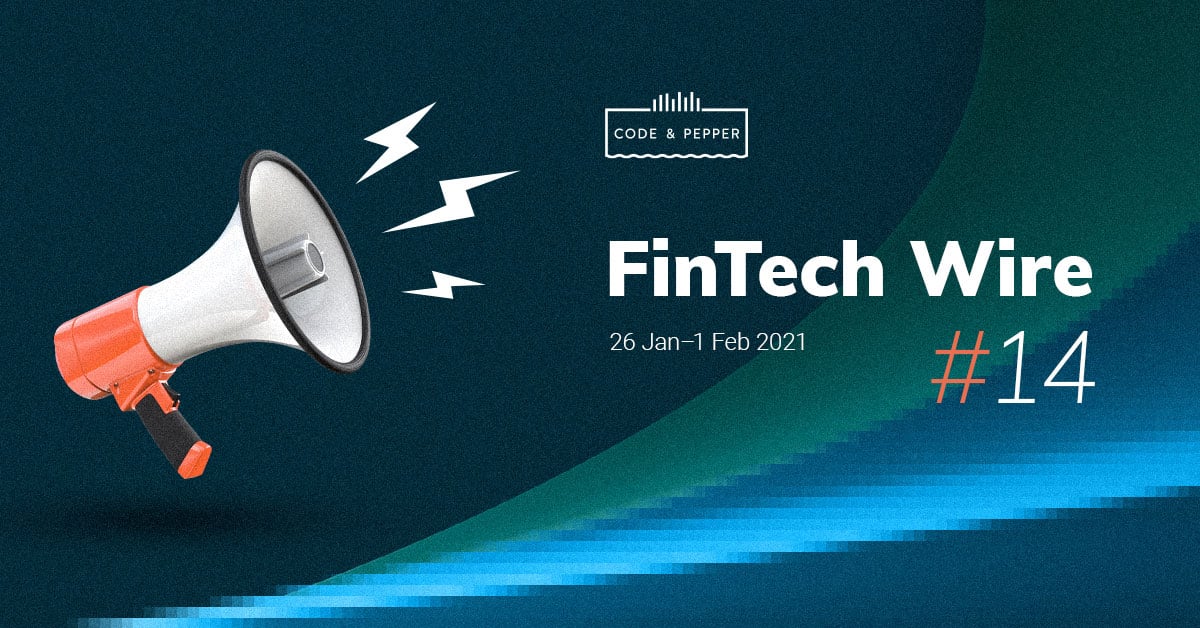 Weekly FinTech news digest: 26 January—1 February 2021
The GameStop and Reddit drama was without a doubt the hottest news in the financial world in 2021 so far. It's probably still too soon to predict the outcomes of these events, but we'll recommend some further reading on this matter, so read on! Besides the Wall Street turmoil, the business was going as usual: new investment rounds, market regulations, and crypto problems… Curious? Then let's start!
Reddit investors went on a GameStop share-buying frenzy using Robinhood app
A David and Goliath kind of story on Wall Street
The story that not only made headlines all over the globe but also shook the investment world was the trade raid of individual investors on shares of a video game retailer GameStop in an attempt to interrupt short-selling practices of Wall Street hedge funds. The small time investors plotted their rally on Reddit's wallstreetbets community, and used the Robinhood stock trading app to buy shares. The outcome? The share price grew around 300%, leading to major losses incurred by the shorting hedge funds. That's not all: the New York Stock Exchange ceased to trade nine times on a single day because of the chaos on the stock market. We recommend reading this article for a more profound analysis of the events.
Brazil's Nubank valued at $25 billion after its latest financing round
The challenger bank raised $400 million in a Series G round
The leading Latin American challenger bank based in São Paulo doubled its previous valuation based on July 2019 funding. This time, the startup reached a valuation of $25 billion in the latest investment round led by GIC, Whale Rock Capital Management, and Invesco, together with existing investors Sequoia Capital, Tencent Holdings, Dragoneer Investment Group, and Ribbit Capital. Despite operating only in Brazil, Mexico and recently, Colombia, Nubank is among the top five financial institutions in the region. Therefore, it seems to be ready to face new challenges such as new players entering Brasilian market (such as N26, as reported previously in FinTech Wire).
Ripple files a court response following the SEC's XRP lawsuit
The company assures it's working hard to clarify the situation
In FinTech Wire #10, we reported that Ripple got in trouble because of its XRP cryptocurrency that was classified as a commodity, not security. According to the U.S. Securities and Exchange Commission, the company and its executives were aware of the status of unregistered security while offering XRP as a commodity to investors. Last week, Ripple has filed a court response, saying that the lawsuit "ignores, among many other things, that XRP performs a number of functions that are distinct from the functions of "securities" as the law has understood that term for decades." Ripple's general counsel Stu Alderoty added that the company aims to resolve the issue as fast as possible because the crypto lost almost half of its value since the complaint was filed. 
Fidelity in talks to invest $100 million in Starling Bank
Rumours say that there are more investors on the horizon
The US investment group Fidelity is allegedly in talks with Starling Bank, offering to lead a new investment round. According to Sky News, the group is ready to buy stakes in the neobank for $100 million. What is more, sources claim that there are more investors considering taking part in the fundraising. Without a doubt, the news that we reported in November about Starling Bank becoming profitable is helpful to attract investors' attention.
India to ban private cryptocurrencies… again
At the same time, the country is seriously considering the implementation of digital rupee
The Indian parliament announced that it's working on a new bill that would introduce central bank digital currency—digital rupee—and allow to ban private cryptocurrencies. This is yet another attempt to regulate the crypto market in India, after the Reserve Bank of India tried to prohibit regulated entities such as banks from providing services to crypto firms. However, the decision was suspended in May 2020.
Tune in next week for more FinTech news!
After exactly fourteen weekly issues of FinTech Wire, we have to admit that the news is never boring! It's even pretty surprising that every single week something groundbreaking happens. It's indeed really hard to stay abreast of all the information in the media. Thankfully, FinTech Wire makes it easier!