Open banking for FinTech visionaries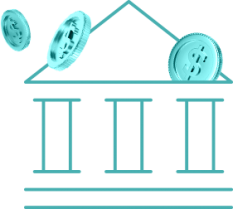 In modern finance, the open banking paradigm comes with a sense of inevitability. New standards introduced in Europe by the revised Payment Services Directive require banks to share account data with regulated Third Party Providers for payment initiation.
It is a revolutionary step towards seamless integrations, streamlined processes and actionable insights available within seconds and protected from cyber threats.
Data is rocket fuel for business, no doubts about it. With open banking APIs, financial institutions can use banking data to make more informed decisions: faster. Think insurance underwriting, mortgage services, loan apps or BI tools.
Adopt open banking technology to enter a thriving ecosystem of interconnected financial solutions
Open banking services give customers more control over personal data and enable them to use that data to improve their credit scoring or find better deals and easily switch between providers. Moreover, lower costs, greater usability and faster services are the biggest incentives for using FinTech products, so open banking development can be the key to customer acquisition and retention.
Open banking development services
Stand out among digital-first brands
Bring more value to users by integrating your app with open banking and payments.
Olga Pogorzelska
New Business
Challenges in open banking products
Security
Digital money flow offers many opportunities not only for customers, but also for fraudsters. Safeguarding data storage and processing can help avoid leaks of data. It's important to remember that security is both a goal and a means to an end. As such, it affects not only the architecture but also the app design and banking software development itself.
UI and UX design
Even the most tech-forward apps won't succeed without a thoughtful user experience and interface design. When designing customer-facing elements, it's crucial to remember about the average level of technological literacy and accessibility for users with disabilities. In fact, building simple user flows can be harder than coming up with a complex solution.
Data processing
Data flow in open banking products is important not only in terms of security, but also application performance. Poor load speed or inaccurate processing results are serious issues that could discourage users from further interactions. To avoid such setbacks, the app needs to be equipped with lightweight but robust programming tools.
DirectID
API development and integration with Salt Edge
DirectID is a banking data aggregator created by The ID Co.: an Edinburgh-based leader in open banking and a long-term client of Code & Pepper. Apart from reducing the risk of fraud, DirectID is a powerful decision-making tool in the hands of financial institutions and lenders.
Code & Pepper assisted DirectID in achieving full compliance with PSD2.
To meet all legal and technological requirements, our teams took DirectID through custom API development and integration with Salt Edge and its global data aggregation API. The main focus points of the project were compatibility, security, and quality assurance.
12 months
transactional data
Clients share their thoughts
James Varga

CEO and Founder
DirectID (The ID Co.)

We value Code & Pepper for their proactive attitude, responsiveness and transparency. It's a reliable and dependable company that we can recommend for other business entities to cooperate with.
See case study
Alexander Rainey

CEO and Founder
Pluto

I really value Code & Pepper for their proactive attitude, transparency, and detailed attention to security. These are what made the partnership trusted and solid. The product team was always very helpful in explaining all technical matters, along with a project manager who took care of work organisation.
See case study
Thomas McHugh

Founder and Director
Finbourne

We have used a variety of skill sets provided by Code & Pepper, including UX design and development. We have also found using their Scrum process to be very beneficial to measuring the progress of the project. We are happy to recommend Code & Pepper as a partner.
See case study
Why Code & Pepper?
FinTech development is hardly a game of chance.
If in doubt: bet on experience, talent and quality.
Our clients are backed by industry leaders
Financial technology thrives best in a robust ecosystem of strategic partners.
Big players are leading the way but there is still room for tech-savvy disruptors. Join the fold!
Opportunities won't wait forever…
Team up with Code & Pepper and secure your share of new value created by open banking.
Olga Pogorzelska
New Business
Do you need a specific team setup? Try us!