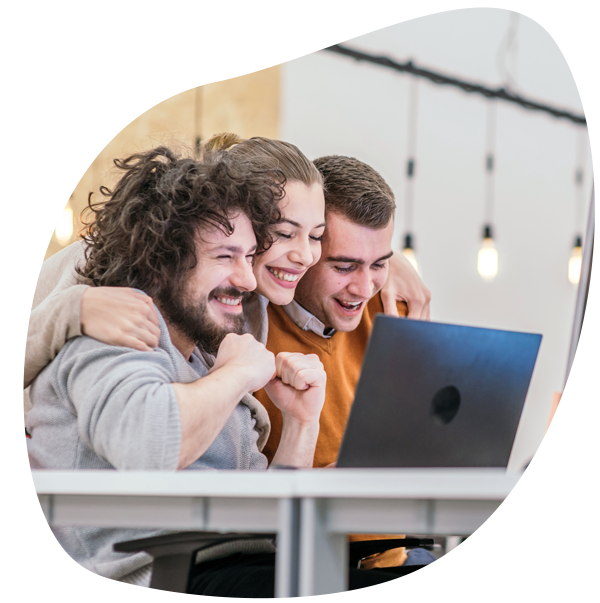 Claiming talent is commonplace.
We have a unique recipe for
identifying the finest 1.6%.
Plus AI power-ups for extra value.
Code & Pepper champions human–AI centaur teams, harmonizing talented engineers with AI tools for superior outcomes. Our precise talent identification methodology scrutinizes 70+ attributes across React, Node.js, Angular, and Ruby technologies, identifying the top 1.6% of candidates as exceptional.
Our engineers don't merely choose between machine-like efficiency and human expertise; they integrate AI tools with their unique skills for an unmatched solution. With Code & Pepper's centaur teams, you get the best of both worlds: human creativity and AI precision, delivering superior results.
Hire true talents
Our unique talent-finding recipe yields
a notable result: only 1.6% make the cut.
3083
candidates
Throughout a year, we assessed a remarkable 3083 candidates for inclusion on our team.
1 in every 60
accepted
Merely 1 out of every 60 candidates prevailed in our stringent technical and soft skills assessment, ultimately joining our outstanding team.
1.6%
true talents
This signifies that a mere 1.6% of candidates genuinely embody exceptional talent, and as esteemed members of the Code & Pepper team, they stand ready to drive your project to success.
Code & Pepper has been very responsive to our business needs. When new requirements emerged, they were fast and diligent to provide us with engineers that fully met our requirements.
Award-Winning Impact:
Triumphing Challenges, One App at a Time
Each journey begins with your challenge, which transforms into our mission and occasionally earns recognition.
We're honored to make a difference, one app at a time.
Settle for Nothing Less Than
True Value
In today's software development, engineers adept at utilizing AI tools are essential for delivering true value.
Code & Pepper excels by combining talent-AI centaur engineers, specialized tech know-how, and FinTech and HealthTech expertise.
Experience the synergy of these three core components in our exceptional, all-in-one offering.
Discover Key Components
of Our Distinctive Value Proposition
See how we've empowered success
for our worldwide clientele.
They Already Know
What True Value Tastes Like
See for yourself the companies that trust us to deliver top-notch software development services.
From small startups to Fortune 500 corporations, we have the experience and expertise to tackle any project.
Code & Pepper is a reliable and dependable company that we can recommend for other business entities to cooperate with.
Let's Connect
and Add Some Spice to Your Code
Don't settle for bland code – work with us to infuse it with flavor.
Reach out today to discuss your project and discover
how our skilled senior-level engineers can elevate your software development.
Olga Pogorzelska
New Business
Focused Expertise:
Mastering Selected Technologies
At Code & Pepper, we concentrate on a few key technologies, allowing us to excel in our chosen areas.
Our focused approach ensures deep expertise and thorough understanding of these select technologies,
delivering top-notch solutions for our clients.
Specializing
in FinTech & HealthTech
By concentrating our efforts on the FinTech and HealthTech industries, we have developed deep expertise
in the unique challenges and opportunities they present. Our specialized knowledge allows us
to provide tailored solutions that drive success in these dynamic sectors.
FinTech Savvy
Revolutionize FinTech with our cutting-edge solutions,
driving innovation in finance through seamless digital
experiences and secure platforms.
HealthTech Mastery
Transform HealthTech by leveraging our expertise
in creating secure, compliant, and user-friendly
digital solutions for improved patient care.
Transparent Talents' Attributes
Across Specific Technologies
Plus AI Tool Mastery
Boosing Our Talents' Capabilities
By merging human expertise with the power of AI, our team of talented
engineers unlocks the full potential of AI-enhanced collaboration.
This synergy empowers them to master intricate challenges
with unrivaled efficiency and showcase their remarkable ingenuity.
Uniting AI power with our top

1.6%

of engineers, our human-AI teams produce innovative and dependable FinTech and HealthTech solutions, optimizing the software development lifecycle.

The engineer with AI tooling competencies:

Code completion and suggestion

Knows tools that use AI to analyse code and suggest code snippets, functions, and variables based on the context in which the user is coding (examples include GitHub Copilot and TabNine).

Code analysis
and review

Knows tools that use AI to analyse code and provide feedback on code quality, security, and performance (examples include CodeGuru, CodeClimate, and Snyk).

Testing and debugging

Knows tools that use AI to help developers create tests, find bugs, and debug code (examples include: Applitools, Functionize, and Diffblue Cover).

Enhanced
Security

Knows AI-driven security tools that use machine learning to monitor software for potential vulnerabilities and threats (examples include Darktrace and Snyk).
Let's Combine Our Skills
and Add Zest to Your Programming
Don't let your code be ordinary – join us to give it the taste it deserves.
Olga Pogorzelska
New Business